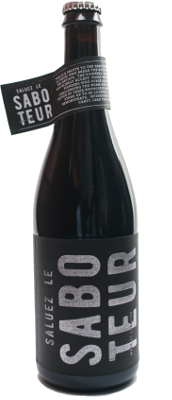 Saboteur Red
2009 was the maiden vintage of the Saboteur Red. This was an exciting year for the Luddites. It was the year they used their own cellar for the first time and the first year that all the grapes were sourced from the Bot River valley. It was also the first time that a new wine was bottled to join the Luddite Shiraz.
With the Saboteur Red, the style is unashamedly new world where we are going for crunchy, juicy fruit balanced by vibrant tannins. This contrasts nicely with the Luddite Shiraz which is more classic in style. The red blend will always be Shiraz driven with a Rhone slant. What makes it different is that our Cabernet Sauvignon is too damn good to leave out! It only spends one year in barrel with sexy wooding and is released soon after bottling.
The buzz word for us is balance and therefore the blend percentages will change depending on the vintage. It will always contain Shiraz, Mourvédre and, hopefully in the future, some Grenache Noir. The fruit is sourced from Bot River and neighbouring wine regions making a wine of origin Cape South Coast.
Vintages
2021
2020
2019
2018
2017
2016
2015
2014
2013
2012
2011
2010